All features
Employee engagement
Real-Time Reports and Analytics
Machine Learning and AI
With advanced survey intelligence, Eletive creates dynamic pulse surveys to make sure your employees always get the right questions at the right time.
Learn more
Use AI and NLP to analyse open-ended question responses from your employee surveys, to save time and get an instant overview, even with large amounts of data.
Learn more
Recommendations
Use a science-based approach to build a culture of self-leadership and communication.
Learn more
Empower employees and managers with in-app science-based advice and suggested actions. Encourage self-reflection with an approach based on OBM.
Learn more
Performance management
Notifications
Use scheduling and reminders to help managers and employees make sure that no 1:1 meetings are forgotten.
Learn more
Turn on real-time alerts for managers and employees to be notified when survey results indicate that immediate action is required.
Learn more
360 feedback
Incorporate peer feedback through 360-degree reviews in the employee development process.
Learn more
Self-leadership
Individual dashboards
Give employees access to their own engagement reports and allow everyone to track their engagement and progress.
Learn more
Individual goals
Give employees and managers the tools for creating individual action plans and tracking progress.
Learn more
Help your team make the most of staff meetings. Give your employees access to an area for private notes in relation to their 1:1 meetings.
Learn more
Advanced People Management
Segmentation and Attributes
Hierarchies enable managers to access the dashboards and data concerning employees below them in the organisational hierarchy.
Learn more
Slice and dice your employee engagement data based on segments like team, country, or gender.
Learn more
Import, export, and integrations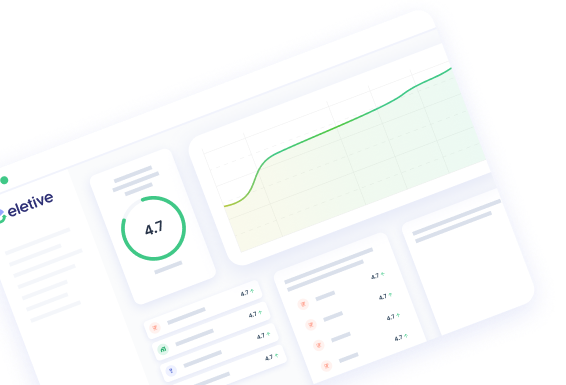 See Eletive in action
We'd love to show you what Eletive can do for your organisation. Get in touch to schedule a demo!
Talk to sales