All features
Employee engagement
Real-Time Reports and Analytics
Machine Learning and AI
Eletive's employee survey intelligence uses ML and adaptive algorithms to ask the right questions at the right time. Discover how to avoid survey fatigue here.
Learn more
Analyse your employee engagement survey's in seconds with the help of our AI feature. Gain an instant overview of the general sentiment of your employees.
Learn more
Performance management
360 feedback
Get a holistic understanding of performance and potential in your organisation with our tool. Support professional development with 360 degree feedback here.
Learn more
Self-leadership
Individual dashboards
Give employees access to their own engagement reports and allow everyone to track their engagement and progress.
Learn more
Individual goals
Discover how our tool can help you create individual action plans, connect actions to survey results and track progress. See if actions lead to improvements.
Learn more
With private notes, you and your employees can document the conversation and take action on the objectives discussed. Get the most out of one-on-one meetings.
Learn more
Advanced People Management
Segmentation and Attributes
Hierarchies enable managers to access the dashboards and data concerning employees below them in the organisational hierarchy.
Learn more
Slice and dice your employee engagement data based on segments like team, country, or gender.
Learn more
Import, export, and integrations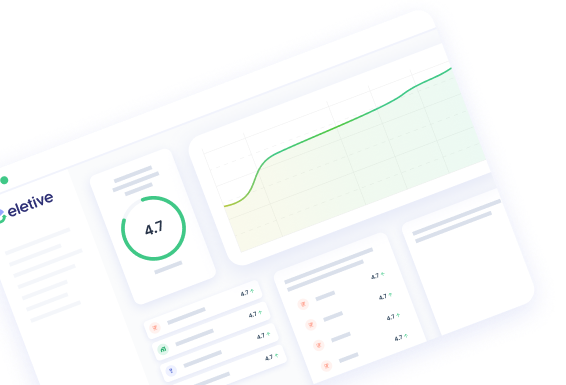 See Eletive in action
We'd love to show you what Eletive can do for your organisation. Get in touch to schedule a demo!
Talk to sales