Employee engagement benchmarks
To understand your survey results and to set goals, it can be helpful to benchmark against other organisations.
Benchmark your employee engagement levels
Once you start sending out pulse surveys, you may wonder how to understand the results you're getting, and what a good result is. With Eletive, you have the possibility to benchmark your employee survey results against millions of surveys in the Eletive database.
Multiple benchmarks
Allow other users in the platform to change default benchmark. Enable managers to add several extra benchmarks. With multiple benchmarks, you can compare results to both industry and country benchmarks at the same time.
In the Eletive platform, you can choose to benchmark against: 
All Eletive users

A specific industry

A specific segment within the organisation

Age

Employment time

Gender

Country

Sub-region (for example the Nordics)

Region

Type of labour (blue/white-collar)

Employment type (full time/part time)

Manager
FAQ
What is employee engagement benchmarking?
Employee engagement benchmarking is the process of comparing your employee survey results against surveys in the Eletive database, in order to understand the results and set goals. This comparison can be done against all Eletive users, a specific industry, or a specific segment within the organisation.
Discover more:
Discover more about employee engagement
Employee engagement index what it is and how to calculate it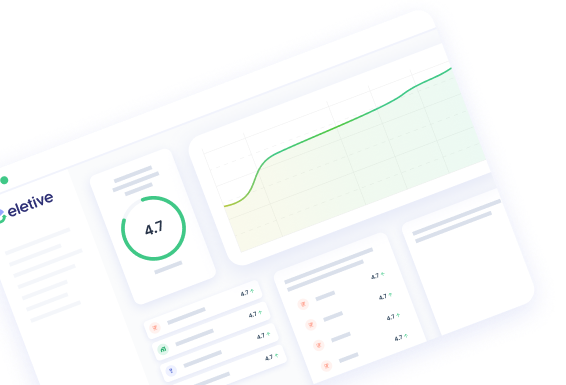 See Eletive in action
We'd love to show you what Eletive can do for your organisation. Get in touch to schedule a demo!
Talk to sales