Integrations
Automate manual tasks and build smooth workflows by integrating Eletive with your existing tech stack.
Integrations

Connect to the HR tools you're already using

Slack and Microsoft Teams Integration

Eletive's integrations with Slack and Microsoft Teams make it easy for everyone in the organisation to access surveys and insights, review goals, and receive notifications in the tools they're already using every day.

Data export via API (BETA)

The Eletive export API makes it possible to export survey answer data on the segment and organisational level. This enables you to crossmatch data with other systems such as sales data, employee retention data, productivity, and financial data.

Two-factor authentication

Two-factor authentication provides an important extra layer of security. Eletive supports two-factor authentication via Google Authenticator.
SSO - Single sign-on

"Single Sign-On" or SSO allows users to sign in to Eletive using their existing company identities. Users don't need separate credentials for Eletive when SSO is enabled, saving time and making logging in easier and more secure.

Easy import of master data

Master data can be imported to Eletive by importing CSV files. Through the drag-and-drop interface, you can easily upload and edit the user data in Eletive.

Premade integrations

Eletive's integrations with HRIS and identity systems automatically supply Eletive with employee master data, minimising the administration. The most common way of integration is by using the standard protocol SCIM 2.0. This protocol is used by Microsoft, Google, OKTA, and many more. Eletive also provides many bespoke integrations such as Bamboo HR, CatalystOne, HiBob, and more.
Automate tedious manual tasks and integrate with your HR systems and communication tools. Save time and streamline your processes – so you can focus on the work that matters.
"We used to send out surveys only once a year. But with Eletive, we can do it as often as we need to, and it's easy and convenient. The biggest advantage is that we can adapt the content of our surveys to what's relevant at the moment and that we get the result immediately instead of months later."
Annika Holm Sundström
Head of HR, Rusta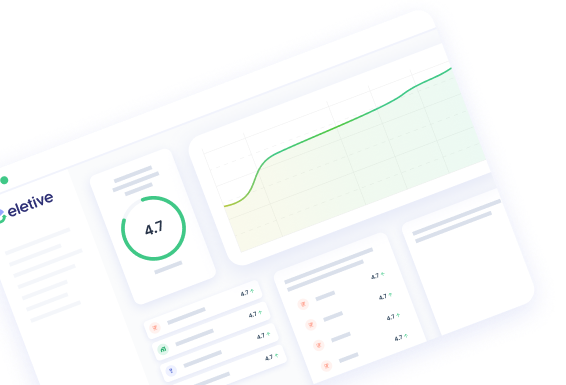 See Eletive in action
We'd love to show you what Eletive can do for your organisation. Get in touch to schedule a demo!
Talk to sales