360 feedback
360-degree reviews are a valuable tool in employee development, and 360 feedback processes are becoming increasingly popular.
Say goodbye to one-dimensional performance feedback, and hello to a holistic understanding of performance and potential in your organisation.
360° feedback for employee development
A 360 feedback system for peer review is a great way to facilitate and improve the appraisal process and people development. 360 feedback surveys help managers and employees develop their strengths and identify areas for improvement. The Eletive 360° feedback system makes it easy to gather comprehensive feedback from multiple sources and gain a complete picture of individual performance. 
Develop your people and organisation in parallel
360-degree feedback is a powerful tool that can help you develop your employees and your organisation simultaneously. By gathering feedback from a variety of sources, including colleagues, managers, and subordinates, employees and managers receive a well-rounded view of their strengths and areas for improvement.
This feedback can then be used to guide the development of individual skills and competencies, which helps drive the overall growth and success of the organisation.
Support personal & professional development

Increase accountability & transparency

Improve team performance

Identify & develop leadership skills

Identify skill gaps & areas for improvement

Increase self-leadership

Automate the 360° process & minimise administration
Aggregate the 360° results for an organisational overview
When 360 degree feedback is implemented effectively, it can create a culture of continuous learning and development, resulting in a more skilled and engaged workforce and a more agile and competitive organisation.
The Eletive 360° feature is unique in how it allows you to aggregate the individual results into an organisational overview. This means you can identify knowledge gaps and areas for improvement both on the individual level organisational level.
A 360° feedback process with minimal admin
Some organsiations are hesitant to implement a 360° feedback process becaues it can be time-consuming and admin-heavy. Eletive solves that problem for you by automating all the steps, from choosing the reviewers and scheduling the reviews, to sending out the surveys and analysing the results. This means your employees and your organisation can get the maximum benefit from 360° feedback, with minimal effort.
Read more: 360 feedback surveys and questions [with examples]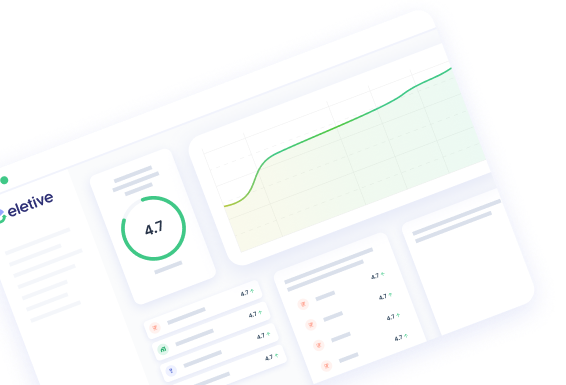 See Eletive in action
We'd love to show you what Eletive can do for your organisation. Get in touch to schedule a demo!
Talk to sales