Survey intelligence
Instead of sending out the same fixed question battery every time, Eletive uses adaptive algorithms and machine learning to create a dynamic survey sequence.
Ask the right questions at the right time
Eletive uses machine-learning and adaptive algorithms to make sure each survey focuses on the most relevant area for each user. This means that in the pulse surveys, your employees will not have to answer the same questions again and again. Instead, the questions they receive depend on their answers in the previous survey. This allows the system to spot negative trends and alert managers and HR quickly that there is an issue. 
Focus more on action, and less on admin
Machine-learning and smart automation help you gather feedback and drive engagement with less admin, compared to traditional surveys where someone manually has to choose and compile questions every time the surveys go out.
Address issues before they turn into bigger problems
Let's say, for example, that the results indicate that your employee is experiencing stress symptoms. Next time they receive their survey, it will include follow-up questions to check if this is still the case – and if things are improving or deteriorating. This is a valuable tool in quickly identifying potential problems and allows for a proactive approach.
Avoid survey fatigue
By not sending out the same questions every time, you avoid the risk of survey fatigue that can sometimes gradually reduce the participation rate. However, the most important thing to prevent survey fatigue is to make sure that the employee feedback collected through the surveys leads to tangible action.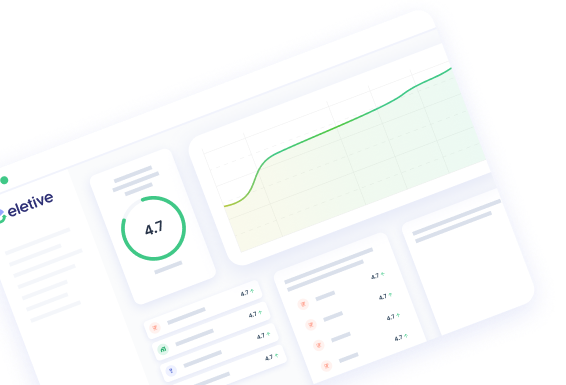 See Eletive in action
We'd love to show you what Eletive can do for your organization. Get in touch to schedule a demo!
Talk to sales