Building a strong employer brand with Eletive
Croisette Real Estate Partner is one of the most expansive and innovative advisory firms in the Swedish real estate industry. Their team of 90 dedicated advisors offers advisory in the areas of transactions, valuation and analysis, leasing, human capital, digital asset management, and insurance advisory. Croisette are using Eletive to perform regular employee engagement surveys.
Croisette is a rapidly growing company with a team that's constantly expanding. With an ambitious vision to become the world's leading real estate advisory firm, attracting top talent and providing that talent with the best possible conditions is on top of the Croisette agenda. Elin Albertsson, COO at Croisette, stresses the importance of a people-centric approach.
"We know that our success is dependent on our people and their ability to grow our business. When they're engaged and committed to our mission and vision, that's when we succeed and grow. So it was a natural step for us to implement a digital and proactive approach to measuring and increasing employee engagement," she says. 
Our high eNPS results show that our employer brand is strong
In a high-growth company, building the right culture and attracting the right people are critical success factors. This is why Elin wanted to start measuring the level of engagement in the organisation, and how willingly people would recommend Croisette as an employer to their peers. 
"We're passionate about our culture, and we want to attract the people who will be passionate about it too. With Eletive, we've finally been able to measure our employer brand in numbers."
The eNPS, or Employee Net Promotor Score, is a metric based on one single survey question: 
On a scale from 0-10, how likely are you to recommend this company to your family or friends?
This gives a good indication of how strong and healthy an employer brand is and makes it possible to track how it changes over time. 
"Our very high eNPS results have shown us what we hoped and suspected – that our people are happy working at Croisette and would happily recommend us as an employer. Which is really the essence of a strong employer brand. With Eletive, we can ensure this remains the case, and we're immediately notified if this trend would shift," says Elin.
Eletive encourages self-leadership and self-reflection
Croisette is a decentralised organisation where each employee has a lot of room to impact their role and activities. This is a foundational part of the Croisette culture. 
"At Croisette, our whole business model is built on a high level of autonomy. This requires great self-leadership skills from everyone in our organisation,"says Elin
With Eletive, we've found a tool that empowers our people to help shape and constantly improve their employee experience.
This was one of the main reasons why Croisette chose to work with Eletive: that every part of the tool is built around and includes the individual employee. With Eletive, not only managers and HR get access to the survey results – every employee has their own dashboard and can monitor their own results. 
"By giving every employee access to their own dashboard, Eletive supports a culture of accountability and ownership. The regular pulse surveys create a culture of constant feedback and iteration and enable us to track what is working – and what isn't. With Eletive, we're able to drill down into the data to understand our people and what they need to perform at their best."
Elin also appreciates the collaborative aspect of the Eletive platform and how it involves everyone, not only in answering the surveys but also in taking meaningful action on the results. 
"With Eletive, our managers and employees can work together – to build a culture where people feel good and perform at their very best."
Are you interested in exploring how your organisation could benefit from real-time employee engagement surveys and a modern People Success Platform? Talk to one of our experts!
"With Eletive, our managers and employees can work together – to build a culture where people feel good and perform at their very best."
Elin Albertsson
COO, Croisette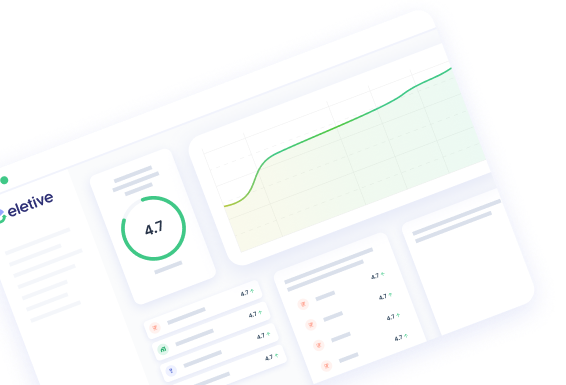 See Eletive in action
We'd love to show you what Eletive can do for your organisation. Get in touch to schedule a demo!
Talk to sales