SATS measure employee engagement in realtime
Nordic fitness chain SATS uses Eletive for employee engagement surveys and performance management. Learn how it has helped them enable more self-leadership in the organisation.
About SATS
SATS is a leading Nordic fitness chain with 250 fitness centers and around 10,000 employees. Offering more than 120 different group training sessions, indoors and outdoors, hundreds of online classes, the experienced and inspiring staff at SATS help every client reach their personal health and fitness goals. At SATS, everyone is welcome, and the guiding vision is to help make people healthier and happier. 
SATS are using Eletive since 2020.
The Challenge
Before, SATS used to measure employee engagement in one big, yearly survey. This system was not very flexible, and the administration demanded a lot of time and attention from HR. 
"These yearly surveys would only provide a snapshot of the state of things at that particular moment in time. Instead, we wanted a way to measure the engagement and well-being of our employees in real-time. So that we could be agile and work proactively," says Johan Westberg, Nordic Culture & People Manager at SATS.
There was also an ambition to give the leaders in the organisation a better way to take ownership of action plans together with their teams. Instead of a situation where people would sit back and wait for action plans from HR, Johan wanted to empower the leaders and employees with a stronger sense of self-leadership and accountability. 
We needed a more modern way of working and we wanted to encourage self-leadership at all levels of the organisation.
SATS is a company with many young leaders and a wide array of different forms of employment. Some people work full-time in the office, and then many employees work part-time or just a few hours every week, such as training instructors. 
"We wanted to give our leaders a tool to help them improve their leadership and work with their teams to create the best possible work environment. And we wanted a safe and efficient channel where everyone in the company would be heard", says Johan.
The Solution
Today, SATS is using Eletive for regular pulse surveys to measure employee engagement – in real-time. Since there is a lot of variation in roles and working hours within the organisation, different people receive the surveys at different frequencies. 
We send the survey monthly to some parts of the organization, quarterly to others, and there's a group that gets it twice a year. It's straightforward to tailor the system to our needs, it's very user-friendly.
All leaders have access to dashboards with their team's results. Together with their team, they're responsible for creating action plans and following up on areas requiring attention. This way of working has freed up a lot of time for HR, who can now focus more on strategic areas. The next step will be to bring 1:1s and performance management into Eletive. 
"We look forward to implementing the whole Eletive platform and gather all things related to employee and team development in one place. Before, this information was scattered in many different lists and email threads. Bringing it all into one, unified platform is an important step in digitalising our HR processes," Johan says.
The Result
The result becomes a more unified and reliable view of employee engagement within the company. Today, there is a clear structure to follow so that all leaders handle follow-up processes in the same way. Johan thinks many young leaders will find this tool to help and support their work. 
"Today, it's much easier for us to focus on the right things. Eletive enables us to work proactively with employee engagement and wellbeing," says Johan. 
Launching Eletive has been an important step in the process of enabling and strengthening self-leadership within the organisation. Johan considers the support for this to be one of the most positive aspects of implementing Eletive.
Johan Westberg
Nordic Culture & People Manager, SATS
"The Eletive way, with individual dashboards and tailored advice, gets people interested in how they themselves can affect their situation. This paves the way for great dialogues and a constructive mindset."
As responsible for the SATS Engagement Survey initiative, Johan finds the reporting and analytics parts of Eletive very useful. It's quick and easy to access the relevant data, and it's presented in visually intuitive charts and heatmaps.
"It's easy to analyse the results and apply different parameters to get the full picture of every part of the company. And, first and foremost, we're always working with fresh data that is up-to-date, instead of last year's numbers." 
Johan's advice to other HR-managers
"Get started! Don't hesitate for too long; just get going. You can always iterate along the way – the important thing is to start getting yourself and the organisation used to a modern and digital way of working!" 
Are you interested in exploring how your organisation could benefit from real-time employee engagement surveys and a modern People Success Platform? Talk to one of our experts!
"We needed a more modern way of working with employee engagement surveys, and we wanted to enable self-leadership at all levels of the organisation."
Johan Westberg
Nordic Culture & People Manager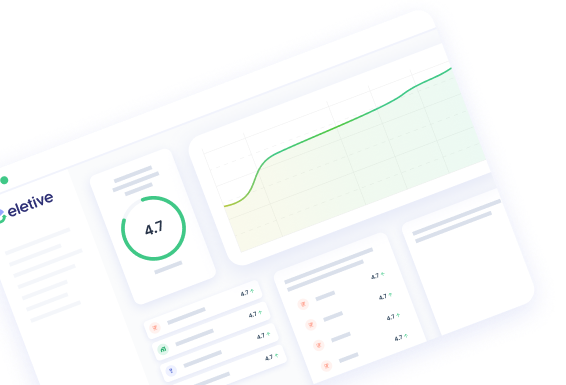 See Eletive in action
We'd love to show you what Eletive can do for your organisation. Get in touch to schedule a demo!
Talk to sales