From one survey every other year to agile pulse surveys
Mekonomen ditches the old-school way of working with one massive survey in favour of agile pulse surveys to get real-time insights.
About Mekonomen Group
Mekonomen Group consists of the leading automotive spare parts chains in northern Europe. With proprietary wholesale operations, over 470 stores, and almost 3,600 workshops operating under the Group brands, Mekonomen Group has more than 4900 employees.
Challenge: Tedious admin and lack of overview  
Before, Mekonomen Group used to send out one extensive employee engagement survey every other year. Then the answers had to be collected, compiled, and analysed before it was time to time to take action on the results.
As Malin Fagerlund, HR Manager at MECA/Mekonomen Sweden, points out, there were several problems with this old way of working.
Malin Fagerlund
HR-manager, Mekonomen Sverige
"A lot happens in a year and a half. Sometimes whole teams have changed. So the results are simply not relevant after that long."
Sending out one big survey every other year also meant a lot of tedious admin for both the managers and HR. It was a time-consuming process, which meant less time and resources could be spent on the actual value-adding activities.
"It was also difficult to compare the different companies and to gain a helicopter perspective. We're a complex organisation with many moving parts, and it was difficult to get a clear overview."  
"We needed access to the full picture. With Eletive it's easy to compare our different companies and different segments within those companies. This means we can create internal benchmarks and share knowledge and practices within the whole group," says Malin.
Solution: A user-friendly platform for managers and employees
With Eletive, Mekonomen has a platform that gathers everything related to employee engagement and employee experience.
The Mekonomen Group consists of several companies, each of which entails a large number of smaller units. Having one unified platform helps tie the organisation together and makes knowledge-sharing and planning easier.
Today, we have tools for measuring and increasing engagement in a modern way: quick and agile.
The built-in advice that is accessible to managers and employees in the tool help create a constructive culture and a shared sense of ownership.
"The advice function really helps our managers and employees work continuously with the results, and drive change and improvements together."
Result: Engaged employees and happier clients
Moving forward, Mekonomen Group will be sending out several smaller pulse surveys, and at least one larger survey every year. Now, the results will be available immediately, instead of with a delay of weeks, or even months.
"We have immediate access to the results, as soon as enough answers have been collected to ensure anonymity. This makes us agile and enables us to move much faster," says Malin.
It's imperative to us that our employees are happy at work. Eletive helps us understand how to focus on the right things to achieve that.
Malin stresses that the employee experience and employee engagement are central to the overall success of the organisation.
"Employee engagement is essential from a business standpoint because engagement directly affects the customer experience. When you're happy at work and enjoy what you do, you'll walk the extra mile to give every customer the best possible service. Engaged employees mean happier customers."
Malin's advice to other HR managers:
Measure engagement more often! The traditional way of working with one large survey every other year will not bring relevant results.

Involve the employees and the managers. Engagement is not an HR matter or a matter for the managers only. Engagement is something everyone in the organisation should own together.

Work proactively based on the results and take action in time, instead of reactively.
Are you interested in exploring how your organization could benefit from real-time employee engagement surveys and a modern People Success Platform? Talk to one of our experts!
"We needed real-time data about the level of engagement in our organisation to work proactively with the results. "
Malin Fagerlund
HR Manager, MECA/Mekonomen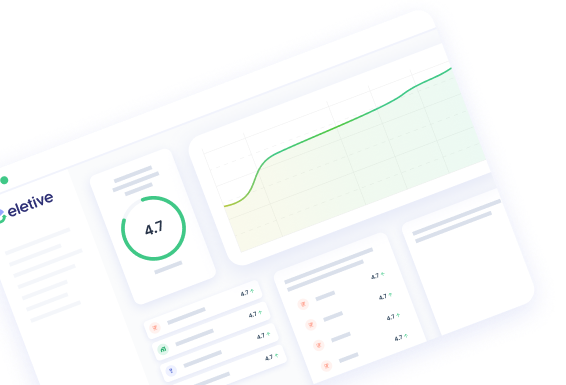 See Eletive in action
We'd love to show you what Eletive can do for your organisation. Get in touch to schedule a demo!
Talk to sales